Photo
Recognize and support all those women you know, you have heard about or the experience you have endured….stand up and let them know they are not alone in their abuse.
Text
Which Professions Have The Most Psychopaths?
First off, psychopath doesn't just mean someone who cuts you up with a chainsaw — though the majority of people who do things like that are psychopaths. What's the definition?
Psychopathy is a personality disorder that has been variously described as characterized by shallow emotions (in particular reduced fear), stress tolerance, lacking empathy, coldheartedness, lacking guilt, egocentricity, superficial char, manipulativeness, irresponsibility, impulsivity and antisocial behaviors such as parasitic lifestyle and criminality.
So which professions (other than axe murderer) do they disproportionately gravitate towards — or away from?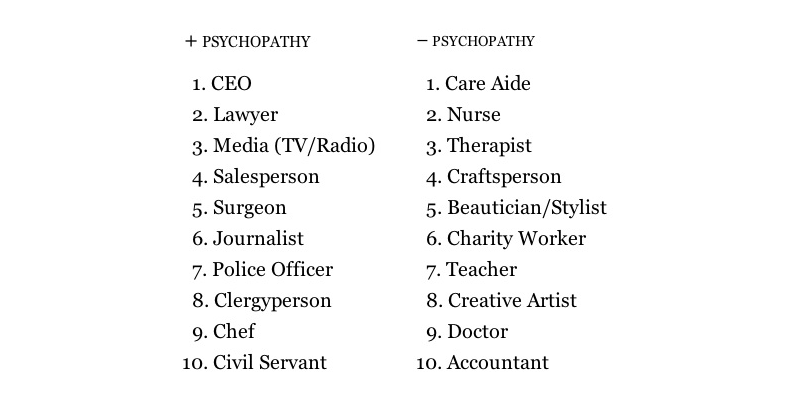 Most of the professions on the right require human connection, dealing with feelings and most of them don't offer much power. Psychopaths, by their very nature, would not be drawn to or very good at these things.
On the other hand, most of the roles on the left do offer power and many require an ability to make objective, clinical decisions divorced from feelings. Psychopaths would be drawn to these roles and thrive there.
Quote
A social predator loves people like a lion loves a gazelle.
Text
Predators on Pedestals
Perhaps you've had your fill of these sordid accounts — the celebrity gropers, the pedophile priests, the fondling in the locker room shower, the witnesses who look the other way. Why do we look the other way?
1. Abusers buff their reputation by throwing themselves into charity work. Used his philanthropy both to identify vulnerable children for his personal sport and to inoculate himself against suspicion. 
2. They cultivate an aura of flamboyant eccentricity. 
3.  They use "the subtle early maneuvers of victim selection," the screening out of children who object or who are supervised closely by parents, the testing, ingratiating, "grooming" and "desensitizing the target with an ever-expanding touch," the escalation of abuse.
4. They often decline to bring a sexual abuse cases to trial "due to lack of evidence." 
5. Psychologists understand pretty well the web of confused affection, guilt and fear that silences the victims in these cases. But what stifles the suspicion of adults? 
Or it was the star culture. Men who reach the top in business, sports or entertainment are too powerful and too intimidating to be taken on.
"One subtler theory is that everyone looked away because we love winners, and we need them to be good people because that means the world is fair. Think Lance Armstrong. A community, in other words, needs its pillars. You would think the first imperative would be to protect the children. But by protecting the pillars of the community, we let ourselves believe we are protecting the community itself."
(Source: The New York Times)
Quote
Accept people, situations, and events as they occur. Take responsibility for your situation and for all events seen as problems. Relinquish the need to defend your point of view. This one goes against what we have learned set a goal and work hard, spend a lot of time, you need work hard to get things…Wrong. The universe and nature finds the path of least resistance which is the least effort. We need to work smart and listen to the signs that the universe is giving us that are the path of least effort. When in a chaos do not get caught up in it and let it get to you take time and breath. Then just flow in the situation the outcome will be turn out better then you can imagine
— The Seven Spiritual Laws of Success by Deepak Chopra
Text
Life's Crossroads—How to Thrive in Times of Change
Making a crossroads a moment of profound and lasting change and learning how to thrive when life's changes descend upon us can be learned.
The key to weathering life's crossroads:
1. Do not settle for normal. When our habitual response leads us to what is expected and customary — when we choose ordinary — we can expect the unremarkable. 

2. Do not resist. Attempting to control, manipulate or force things to happen is a typical response to the fear that comes with change. Some of us will be so fearful that we refuse to make a change without understanding that even if we choose not to make a decision or take action, this in and of itself is a choice. Our learned way of coping with stress and uncertainty should be reevaluated constantly as we evolve in this world. Move with the changes instead of against them.
3. Trust your deepest feelings for guidance. We all know, deep within ourselves, what we need to do — what we know, how to think, when to trust — during times of crisis. We can learn to access and trust our innate wisdom; it is personal and always available. Through this, we will know how to adjust our course, move toward our personal destiny. When we don't follow our inner guidance, we feel a loss of power and energy.
4. Dream bigger. Change what you expect from life and then create a plan and work to cultivate the right conditions for your growth and success.
5. Limit distractions and strive to create balance in the midst of chaos. When we let go of our own or other's agendas and when we push away the demanding concerns of the moment, we are able to hear our own thoughts. Do less at the moments of crossroads and give yourself the gift of time — time to be in the present moment. Respect the value of being here and now. Ask yourself, "What is the one area of my life that needs more balance?"
6. Failure is just another way to start again. When we face a crossroads with fearlessness and the choice turns out to be prosperous, we are hailed as a genius or visionary. When our choice creates failure, then we are judged harshly, ridiculed and diminished, and it has the potential to make being fearless more difficult when we face the next crossroads. We must remember that failing creates not only additional opportunities for success, but fosters courage and determination in those of us who are brave enough to attempt it.
When I'm faced with fear at life's inevitable crossroads, I have learned to "let it rip" and charge "no holds barred" into the abyss — if for no other reason than to see what is there. I have emerged out the other side bloody and battered at times, but I'm stronger for having risked, taken a stand, trusted and believed.
(Source: The Huffington Post)